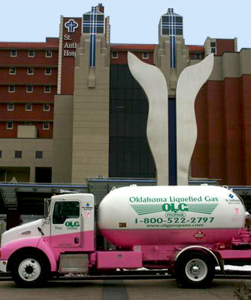 Oklahoma Liquefied Gas is collaborating with
St. Anthony Breast Center
in an effort to help un-insured and under-insured local women obtain breast cancer screening. One cent per gallon of propane delivered by our pink truck will be donated to
St. Anthony Breast Center
.
"In this way, we will be helping Oklahoma women who might delay screening due to being un-insured or under-insured,"
said Kay Peters, spokesperson for OLG Propane,
"Breast Cancer is one of the most common forms of disease among women, and every woman is at risk."
The St. Anthony Breast Center
provides results within 10 minutes. With digital mammograms, you will know your results before you leave. If something is detected, a biopsy can be performed the same day.
You can schedule your
appointment online
, so you can choose the day and time that works best for you. Or, you may prefer to phone St. Anthony Breast Center at (405) 272-4226.
You have the power to make your health a priority.
____________________________________